"Marsad Majles" is Al Bawsala's project to monitor Tunisia's National Constituent Assembly (NCA). Intended as a registry of representatives elected to Tunisia's NCA, It includes biographical information of NCA members, proposals, outcomes of votes in the NCA, interventions made by NCA members and attendance records.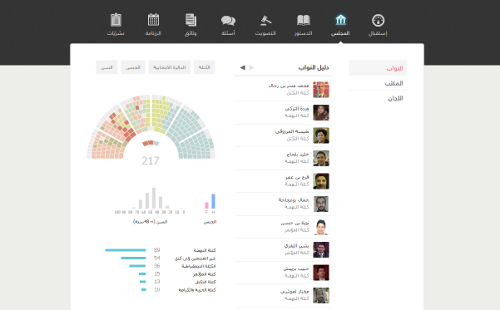 The objective of "Marsad.tn" is to provide Tunisian citizens, with an easy and free way to access information relating to their elected representatives and concerning drafting of the country's new constitution. The online platform includes features such as:
A list of elected NCA representatives, including biographies, mail adresses, political affiliations, constituencies, and political views.
Updated information on political activities, propositions and votes in the National Constituent Assembly ( through the use of a vote tracking system).
Free access to all documents, briefs, and meeting minutes from the various legislative, special and joint committees within the NCA (to date, 170 documents have been published on the website).
The rough draft of Tunisia's new constitution, translated from Arabic to French.
A daily press review of articles related to the work of the National Constituent Assembly.